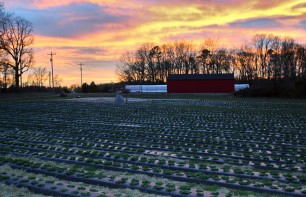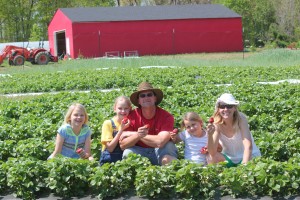 Wise Acres is a family owned u-pick organic strawberry and pumpkin farm in Indian Trail, NC  just outside of Charlotte.  We grow the very best berries using only natural methods to ensure the healthiest and most delicious produce for family, friends and the environment.
We care very much about what and how we grow an we are confident that you will love our berries.  But we also want your experience on the farm to be a fun one that  you and your family will remember.  You are our guests and we will do all we can to be great hosts.  Take time to:
Take a ride through the woods on a hay wagon
Navigate your way through our mini sudangrass maze (like a corn maze but sudangrass is healthier for the soil)
Have a blast in the corn pit
Climb or swing on our 100% recycled tire playground and sand area
Meet, greet & feed our chickens and rabbit
Take or leave a book from our Little Free Lending Library
Buy Wise Acres honey – our ladies had a great first harvest!
Pick up a beautiful local Indian Trail Mum
Stop by for some eggs and meat from Belle Terra Farms, a healthy free range family farm in Monroe
We are always trying new ways to engage and entertain you and your family.  No electronics – just good food, fun and fresh air.  When you need a break stop by the barn for a treat.  We are offering 3 slushie varieties this fall – organic lemonade, strawberry made with 100% fruit juice and no added sugar and a seasonal apple cider.  We are also proud to serve organic, non-gmo popcorn popped in organic coconut oil and served with real butter.  New to the goodie selection is cotton candy made with only 100% organic sugar – no pink or blue bags of artificial flavor and colors here!
Join us for our very first fall festival and be part of our farm family from the start.  We are very excited for the future of Wise Acres and for new opportunities to engage, support and grow with the land and community we love.
  4701 Hartis Road Indian Trail, NC  28079  (704) 628-6232